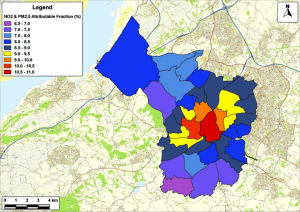 Air pollution is a "public health crisis"
The health impacts of air pollution are well known, including increased deaths from heart disease, breathing problems, and lung cancer. Around 300 deaths a year in Bristol are linked to air pollution. Like cigarette smoking, its harmful effects have been known for a long time before enough action is taken. Parallels to secondary smoking are not far-fetched.
Some people are more vulnerable to air pollution. Air pollution particularly affects the old and the young, and those with heart and lung conditions. It can lead to children growing up with smaller lungs, and exacerbates asthma. Air pollution has even been associated with changes in the brain linked to dementia.
Bristol is about to tackle NO2 pollution.
Nitrogen dioxide (NO2) pollution impacts on health. Pollution from NO2 comes primarily from diesel vehicles. High levels of it can inflame the airways in our lungs and, over a long period of time, affect how well our lungs work. Diesel vehicles still emit too much polluting gas – independent real-world road tests show that many diesel cars continue to pollute heavily.
We already know where the NO2 pollution hot-spots are – the council's network of sensors shows that hot-spots occur where traffic is congested – mostly in the city centre and on the arterial roads leading into the city centre. There are schools close to polluted roads.
Bristol has to agree a Clean Air Plan by December 2018. Bristol exceeds the prescribed limits for (NO2) pollution – in the worst cases, the pollution is more than 50% higher than the limit. So the government has required the Council to come up with a plan which can be shown to get pollution within the limits in the shortest possible time. Other cities, such as Leeds, Birmingham and Bath, are also developing a Clean Air Plan.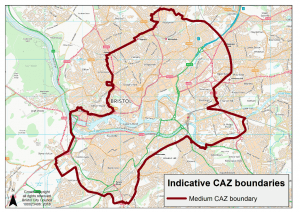 Support a Clean Air Zone!
Other than a ban on diesel cars, a "charging" Clean Air Zone (a zone in which certain vehicles are charged when used in the zone) is the only measure that we can be confident will deliver cleaner air. Bristol has over the years implemented other measures to encourage a shift to alternative modes of transport, like cycle lanes, rail enhancements and Metrobus. But these measures are not enough on their own. The council wants to know people's views, especially their views on a Clean Air Zone (CAZ). People will no doubt tell the council if they are against it. They need to hear from people who support it. You can support a CAZ by going to the council's website at https://www.cleanairforbristol.org/.
More is needed.
But a CAZ is not enough. A CAZ should get us below current NO2 pollution limits, but the research evidence is that no level is safe. The CAZ charges will not affect the newest diesel vehicles even though many are still not clean. A CAZ will help, and is a prize worth having. But other measures are needed to reduce air pollution – measures that enable a shift to active travel and shared transport. It's not just about NO2 emissions: particulates impact on health too. A ban on wood-burning stoves is needed as part of a Clean Air Act. Action is awaited from government, which is consulting on possible measures.
Alan Morris