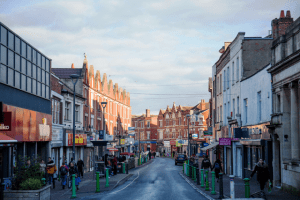 The Society has submitted consultation comments on the 'East Street vision' commissioned by Bedminster Business Improvement District, which will evolve into a masterplan. The consultation builds on some work by Purcell consultants in May 2019. The Society's response first appraises the context for the consultation, then considers pointers for improvement.
East Street contains a number of significant shops and outlets, but It has not adapted to the fundamental change caused by the departure of Wills tobacco factories to Hartcliffe in the early 1970s. It is not currently thriving (as evidenced by the Purcell report), and there are few community focal points in the street. There are some attractive individual buildings and groups of buildings, but the street exudes some neglect. The Bedminster Green developments will, if built, bring in a massive influx of nearby residents.
We do not expect a large investment in a fundamental transformation of the area, rather we think the area will change organically, over a period of time, as small developers get involved and do things piecemeal. When permission for the large residential development is granted on the major plots adjacent, this will encourage the need for new shops and retail outlets, but also doctors, dentists and other community necessities.
During the period of transition, there will be retail units which are vacant – would it be possible to explore temporary uses ? If the road width is narrowed and the pavement is widened, there would be more scope for a street market. In the immediate short term, East Street would benefit from some cleaning up of litter and graffiti in the side alleys and streets.
Architecturally it is mixed – some buildings have real character, which is recognised by East Street being in the Bedminster Conservation Area. There are very few distinctive or attractive shop fronts although the width, scale and flow of the street offers considerable potential. Conservation quality maintenance and repair of many of the building frontages should be carried out. Management of the size of shop fascias could be a significant improvement.
The presence of buses compromises the feel of the street for the pedestrian, but it seems unlikely that the community will agree to removing buses. It is important to do something to improve the experience for the pedestrian. At the very least, road space should be reallocated to make a wider 'pavement' for the pedestrian. ANPR cameras are needed to enforce vehicle restrictions.
The Society endorses the Bristol Walking Alliance response, which comments in more detail on the walking environment.
Use the following link for the full BCS comments.
And this link for the BWA comments.
Alan Morris