The Society has commented on proposed improvements to the Number 2 bus route (A37/A4018) between Cribbs Causeway and Stockwood (via Henbury, Southmead, Henleaze, Whiteladies Road, the Bristol City Centre, Wells Road, and West Town Lane). The proposals look to achieve major changes to make the roads better for buses, pedestrians and cyclists. This is an appraisal of whether the scheme achieves its objectives.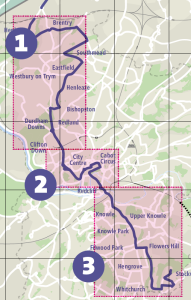 This scheme is important because it is the first of the programme of arterial route schemes. It is the first time we can see the reality of what is proposed on an arterial route. The policy statements and the transformational aspirations only get tested when designs are produced that share out the available road width between buses, bikes, footways and parking, and the compromises start to be made. Some of those compromises are down to practical constraints, some down to political choices.
The compromises made in this scheme's designs are bound to carry across to other arterial routes to some extent, even though there will be route-specific variations. In this way, the designs for this scheme set a precedent for future schemes, which will determine the future of Bristol's transport provision for years to come.
Are the proposals bold enough to achieve the objectives? For walking, there are some welcome changes but also two major omissions. For buses and bikes, there are some good proposals in the city centre, but away from the city centre there are some significant gaps and there are doubts that the changes are enough to transform the provision: the policy statements and the transformational aspirations do not appear to translate into reality.
Alan Morris