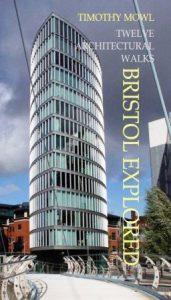 Timothy Mowl's latest book, featuring 12 urban walks, explores Bristol's diverse architectural heritage, its maritime past and rich social history.
Where in Bristol can you find the remnants of a Sixties walkway in the sky? Or a huge altarpiece painted by our greatest satirist? Which 18th-century pub – still serving pints today – played a part in the nascent anti-slavery movement? And did you know Bristol has a perfect Elizabethan knot garden and that the cables holding up Clifton's Suspension Bridge are second-hand?
From the very beginnings of the merchant city, the once fashionable Hotwell spa and Clifton's elegant terraces and crescents, raised in the teeth of bankruptcy, to an alternative way of living in the graffitiridden People's Republic of Stokes Croft, Bristol Explored encourages the walker to view the city through fresh eyes, to take pleasure in its historical idiosyncrasies, to challenge accepted wisdom on matters of urban style and, above all, to experience Bristol's many changing faces.
Timothy Mowl is Emeritus Professor of History of Architecture & Designed Landscapes at the University of Bristol and is the author of over thirty books on architecture, landscape, historic gardens and conservation.
7.45pm: Unitarian Chapel, Brunswick Square, Bristol, BS2 8PE Members £2, Non-members £5 suggested (minimum £2). Booking not required