Always a highlight of the Society's year the Design Awards presentation event surpassed expectations when it was held in early June. The venue – St George's – was superb, with the bar open from early evening for drinks and as a base for visitors to explore the entire complex, both old and new. A large crowd took this opportunity prior to the Awards ceremony itself, which was compered by architectural historian, and Society member, Jonathan Foyle.
Four winning projects were selected by the Awards Panel from a very competitive field. Project developers and their design teams were invited to make short illustrated presentations introducing each scheme.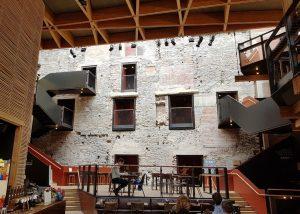 Bristol Old Vic
Surely one of Bristol's gems if not its crowning glory! The Old Vic was built in 1766 and is close to the heart of most Bristolians. The Panel considered that "the refurbishment and extension of this Grade 1 listed building would always have been a challenging commission for any architect but Haworth Tomkins have pulled it off beautifully".
Replacing the previous side extension, which was only built in 1972, the designers have created a light and airy foyer area which also complements and blends with the now exposed original building. It houses a new studio theatre as well as delivering a café / restaurant area. The new timber frame structure combines with a glazed façade and roof to contrast with but also complement the existing building.
Paintworks – Phase 3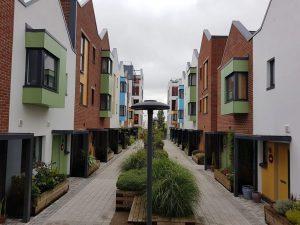 Over the past 15 years the Paintworks regeneration project has gradually transformed a former Victorian paint and varnish factory next to the river Avon into a new, vibrant, mixed-use district.
Ashley Nicholson gave a lively overview of the scheme describing how Phase 3 is the latest part to be completed and is a mixed-use, new build project. Over 200 residential and live/work units have been developed while Verve Properties (who were responsible for the earlier phases and continue to manage the whole site) have built offices and event spaces.
Architects Stride Treglown placed the entire development on a podium with a series of taller, apartment blocks along the northern edge, providing views over the river. A network of pedestrianised streets, alleyways, public plazas and courtyards provide access to the buildings while car parking is hidden away underneath. Vibrant colour, robust, industrial materials and other design cues have been brought across from the earlier phases and street furniture encourages residents to meet their neighbours and build the community.
The Panel considered that Paintworks 3 provides an excellent blueprint for how we want urban developments to be – people focussed, well connected and where the community can live, work and play together.
Peverell Court, Challender Court and Suffolk Close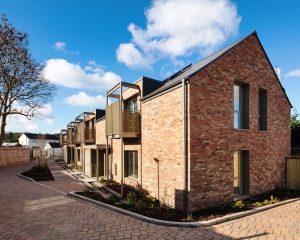 A double act by Martyn Pursey, from Bristol City Council, and Tom Russell of Emmett Russell Architects described how three infill sites in north Bristol have been transformed from disused garages to new, high-quality apartments and bungalows. This is part of a city wide initiative to deliver more Council houses.
There are a number of architectural solutions that are common between the three sites which the Panel acknowledged as unique and identifiable, and therefore this blue plaque has been jointly awarded for the three sites. In fact, three separate plaques were ordered, one for each building!
The placement and design of the buildings was a key challenge to avoid overlooking to neighbouring properties. The solution includes metal screening which allows light to the first-floor flats whilst minimising views into neighbouring gardens. Each site provides sustainable urban drainage solutions which positively influence its landscape character. The residents access their entrances across footbridges which sit above the overflow beds.
Each of the three buildings uses simple well executed detailing with a limited palette of materials consisting of: variegated brickwork, slate roof tiles, powder coated aluminium, block paving and timber fencing.
The Panel considered that "these three schemes not only deliver high-quality council housing in Bristol, but they raise the bar for more design-led council housing schemes in the future".
St George's Bristol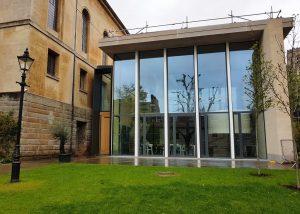 Suzanne Rolt, CEO of St George's, explained that St George's Bristol is one of the country's leading concert halls, a music venue of international note, boasting a superb acoustic and unique atmosphere which attracts the world's best artists. Suzanne is delighted that It now has a high quality new extension to match this success.
Change was essential to provide additional accommodation, improve circulation and create a fully accessible venue. There is now a stunning pavilion-style extension, with exhibition and performance spaces, and Café Bar, located on a tight site to the side of the existing building and set back from the main façade facing Great George Street.
Architect George Ferrari, of architects Patel Taylor, gave a fascinating insight into the design approach which he and his team adopted. This delivered superbly with the Panel very impressed by the design quality of the new extension, unashamedly modern, yet working harmoniously with the Greek Revival church of Robert Smirke. Both externally and internally the new extension works superbly and delivers on its brief.
Closing the event Jonathan Foyle commented on the very high quality of the award winning schemes, their geographical spread and their contribution to the lively character of the City. He thanked St George's for their exemplary hospitality in hosting the Awards.
Simon Birch
Chair, Bristol Civic Society
Presentations
Photos © Jeff Lucas