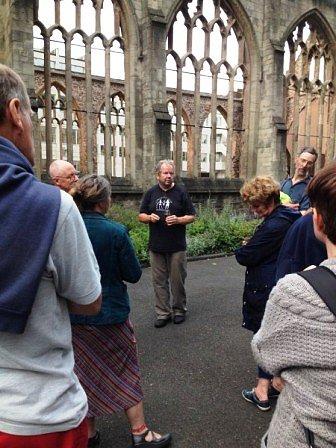 On the evening of Saturday 28th June, a group of 20 people were taken on a walk around some city centre heritage pubs, a new type of event for the Society.
The event, attended by Bristol Civic Society members and others, was a great success. The expert and engaging guide was Mark Steeds, a Civic Society member and, importantly, an expert on the history and architecture of Bristol pubs. He is also a member of CAMRA and the Bristol Industrial Archaeology Society (BIAS).
The walk took in five pubs in the Old Market – Victoria Street area, plus the sites of two former breweries. The walk finished at the Seven Stars pub where there is a plaque celebrating Thomas Clarkson's role in recording interviews with sailors involved in the slave trade, which was critical evidence in the movement for the abolition of slavery.
A special thanks to Mark on behalf of the Society. He was the main reason for the success of the evening. Thoughts are now turning to whether we could repeat the idea of a Civic Society guided pub walk in other areas of Bristol, for example Montpelier, Gloucester Road or other areas in the Centre.
Peter Weeks
peter.weeks@blueyonder.co.uk