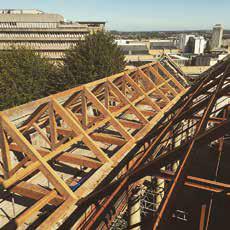 It is heartening to report on the phoenix arising from the ashes of St. Michael's! Some three and a half years on from that disastrous fire there is significant new life. The church is now owned by local businessman Norman Routledge, of Kings Weston House fame, who is working with Quentin Alder, conservation architect.
Quentin emphasises that a fundamental component of the approach to restoring St Michael's has been the objective to keep the nave and aisles free of partitions and other clutter. There will be a completely flat, sprung floor with underfloor heating. Ideal for dance and a wide range of other activities and events.
As a consequence, the use of the crypt is critical to the future operation of the building by providing storage, toilets and other facilities. There is a need to lower the crypt floor by around half a metre to provide the necessary headroom. And there is a need to provide a lift for access and for moving chairs and other items.
Provision for the lift will be accommodated in a semi-circular extension using very different materials from the church – in this case bronze-coated zinc.
Norman is planning to have St Michael's open later this year, depending on the lifting of COVID-19 restrictions.
How the work has been carried out
But the really interesting aspect of the renovation is Norman's approach to carrying out the actual work. Instead of preparing bills of quantities, going out to tender and employing specialist companies, individuals are employed directly and bring with them expertise and tried and tested associates.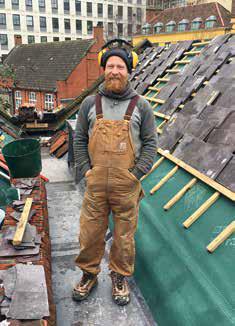 Undertaking the task of rebuilding the fire damaged roof is Ollie Whitmore, aged 34, with a geography degree from UWE, who met his wife when working at Kings Weston House. Ollie is self employed and has previously worked for 8 years as a timber framer with a commercial company creating timber framed buildings. Whenever required Ollie is bringing in known associates to assist at St Michael's.
Ollie has recently established his own company based in Frome. The majority of the work has been on the north roof where a completely new traditional king post truss roof has been fabricated. It's possible to see the original eighteenth century pit-sawn timber in some of the surviving timbers.
Ollie describes how he used Douglas fir – England sourced. Same as original timbers. And placed 14 tonnes of timber on the roof!
Inside the church the task of restoring the leaded windows is being masterminded by Ben Beech, originally from Derby. Ben has been a chimney sweep and was working at a property in Bristol where the householder had a badly damaged stained glass door which was being thrown out as the repair quotes were too expensive. Ben took it home and restored it. That was 5 years ago! Specialist supplies are purchased from Creative Glass Guild in Feeder Road. Now Ben works both as a traditional chimney sweep and as a leaded glass expert, mostly for domestic customers (email: info@chimneysweepbristol.co.uk)
When I visited St Michael's Ben was working alongside his wife, together with two friends, all busy fabricating new leaded windows. Not surprisingly for a city church these are all very large, each window measuring 14' x 5'. In total there are 18 of these windows to make; quite a challenge! Working in the crypt and charged with making the crypt fit for future use is Mark Atwill. Mark is a very experienced stonemason with some 37 years in the trade having started aged just 17. The work really took off in Bristol during the 1980s as interest grew in renovating the many old buildings. Mark is working with his son and a colleague, repairing the roof parapets and making the crypt fit for purpose.
Simon Birch