In December 2021 Bristol City Council's planning committee, on a split vote, resolved to grant planning permission for the redevelopment of this significant site. The Civic Society had voiced grave concerns about the proposal and the manner in which the planned monolithic blocks would dominate Bristol's historic heart and townscape. Historic England, the government's statutory adviser on the historic environment, objected to the proposal saying that the "character and appearance of the City and Queen Square Conservation Area would be irreversibly harmed, as would the setting of several highly-graded listed buildings."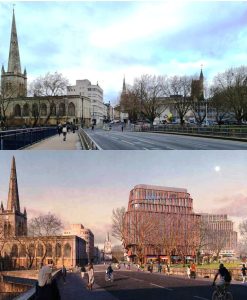 Following discussions with Historic England and other concerned organisations and individuals, the Society has made a formal request to government to "call in" the scheme and to establish a public inquiry to examine the proposals independently. The Secretary of State in charge of planning will call in a planning application if he considers it raises issues of more than local importance and he should take the decision. In deciding whether or not to use his call in powers, he will consider whether the proposal conflicts with national policy in important ways. National planning policy puts great emphasis on achieving well-designed and beautiful places, and conserving and enhancing the historic environment.
The Civic Society is keen to see an appropriate redevelopment of this important city centre site which is a longstanding eyesore. However, our strong view is that the wish to see it redeveloped and brought into productive use, should not be at 'any cost'. In line with government planning policy, we want to see "The creation of high quality, beautiful and sustainable buildings and places".
Simon Birch
Previous Civic Society views: May 2021 and July 2021