---
Event Notice
Bus Rapid Transit – is it an answer? A talk by James Freeman.
What exactly does the term Bus Rapid Transit (BRT) mean? BRT systems aim to bridge the gap between tram/light rail and conventional buses, providing the capacity, reliability and speed of the former with the flexibility and simplicity of the latter. A precise definition is difficult, as the label is applied to a wide range of systems. But a key characteristic is to ensure reliability by keeping the vehicles clear of congestion, by segregating the route from other traffic (on a separate track or a bus lane) and giving priority at junctions. Also, BRT systems aim to increase the speed of boarding by having vehicles with multiple doors, and simplified ticketing systems; and with high quality vehicles and infrastructure, they offer,  so their advocates claim, most of the benefits of trams at significantly less cost.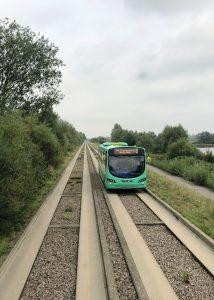 BRT is a subject of direct relevance to Bristol, as we already have three Metrobus routes (which can be classed as BRT, though the degree of segregation from other traffic is not ideal), and the Council are planning several more.
Our speaker could hardly be better qualified to talk on the subject: James Freeman is the Chair of "BRT- UK", an advisory, advocacy and information sharing group; and until his retirement in 2021 he was the Managing Director of First West of England, the culmination of a 47 year career in the industry. As such he was responsible for two of the three Metrobus lines in Bristol- and was not slow to express his frustration at the delays caused by the lack of proper segregation, leaving the service vulnerable to congestion. So he is well placed to set out the pros and cons, and tell us what a properly-implemented BRT system should look like.
Members will be invited to attend the event by email.
[Images courtesy of Patrick Warner]