Bristol & West of England Society for Women's Suffrage
One hundred years after women voted in British Parliamentary elections for the first time, a blue plaque ceremony took place in Clifton. Bristol MP, Thangham Debbonaire (in our featured image) was guest of honour at the occasion, on Saturday 15 December. Number 3 West Mall had witnessed the inaugural meeting of a small gathering of what was to become the Bristol & West of England Society for Women's Suffrage.
Lucienne Boyce, the proposer and fund-raiser for the commemorative plaque, described it as one of the first such groups in England. Eventually, the society affiliated to the NUWSS – the National Union of Women's Suffrage Societies, led by Millicent Garrett Fawcett – a statue of her was unveiled in Parliament Square this year.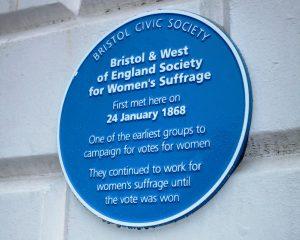 But plaques are more evocative than statues: through the doorway next to this plaque passed radical women and men, invited by Florence Davenport Hill to congregate in her father's drawing room. The year: 1868 – very early in the long campaign to win the vote for women, and just two years after John Stuart Mill raised the issue of women's suffrage in the House of Commons.
Thangham Debbonaire informed us that the total number of female MPs ever elected is 450 (about the same number of male MPs which are elected to each Parliament nowadays). She reminded us that without the dedication and struggle of the women who campaigned for the right to vote, we would have no representation.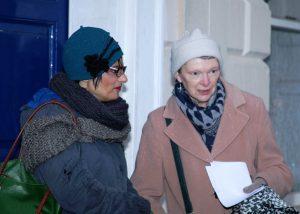 And Panel member Lori Streich alluded to the pioneering activities that took place in this house and highlighted something else that is pioneering about this plaque. It's the first one to be crowdfunded! This blue plaque has been made possible with funding obtained for the Votes for Women 100 Project from the Barry Amiel and Norman Melburn Trust, the Regional History Centre at the University of the West of England, and the Government Equalities Office in a bid led by Bristol Women's Voice, together with a crowdfunding campaign. Votes for Women 100 has been organised by a partnership of M Shed, the West of England and South Wales Women's History Network, the University of Bristol, the University of the West of England, Bristol Libraries, and the Diversity Trust.
The weather was atrocious: bitterly cold with gusty winds and rain. And it was good to see BCS members in attendance. After the speeches, there was an impromptu gathering for coffee at a nearby house. Thanks to Professor Bhupinder Sandhu and Richard Whitburn for their gracious and much-appreciated hospitality.
Gordon Young