On Friday 27th May 2022 a blue plaque was unveiled commemorating the life of a Barton Hill boy who went on to become a highly distinguished Labour and Co-operative Party politician. Albert Victor Alexander was born in Weston-super-Mare in 1885 but moved to Barton Hill with his widowed mother as a baby.
AV, as he is usually referred to, held high office as First Lord of the Admiralty during the Second World War, working closely with Winston Churchill on the Battle of the Atlantic and the D-Day landings. He continued as Minister of Defence in the post-war Attlee government until 1950. A distinguished career in the House of Lords followed, as Earl Alexander of Hillsborough.
The house he grew up in no longer stands but the Wellspring Settlement directors were very keen for a plaque to be placed there. It's an important meeting place for the Barton Hill community, and the plaque will be an inspiration to passers-by.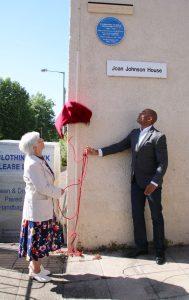 The now-deceased Reverend John Ancrum first suggested a plaque for AV some years ago. He met him in the late 50s and wrote an article for The Bartonian (the journal of the Barton Hill History Group) about the memorable occasion. His daughter, Elisabeth came to the unveiling.
Around 50 people attended, many of whom were descendants of AV. His granddaughter, Jenny Hunt, remembers him very well, and her speech was a moving personal memoir. The elected Mayor, Marvin Rees spoke about the importance of remembering local figures and how blue plaques help to bring Bristol's history alive.
Also present was Lt Cdr Samantha Imrie from HMS Flying Fox. Her presence was a reminder of AV's essential wartime role and the continuing esteem the Royal Navy holds him in. Many members of the very active Barton Hill History Group also attended.
After the unveiling by Marvin Rees and Jenny Hunt, an excellent selection of food and refreshments were provided by the Settlement.
It was a memorable and at times emotional event in bright May sunshine.
Alastair Sleat, Blue Plaques Panel