Hilda Cashmore: a pioneering community worker and founder of Bristol's Barton Hill Settlement
It was fitting that on International Women's Day (Wednesday 8 March), a blue plaque was unveiled at Barton Hill to honour a remarkable feminist and social reformer at the building which she helped set up in 1911.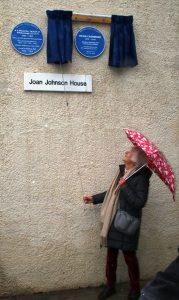 Hilda Cashmore is already commemorated with buildings just one street away which bear her name: Cashmore House flats and Cashmore Early Years Centre nursery. And now she has a blue plaque at the Wellspring Settlement in Ducie Road. The building started life as a 'university settlement'. A fellow-Bristolian, Samuel Barnett had promoted the concept – places where richer students could live alongside, learn about and contribute to the welfare of much poorer people. In his words:
Let university men become the neighbours of the working poor, sharing their life, thinking out their problems, learning from them the lessons of patience, fellowship, self-sacrifice and offering in response the help of their own education and friendship.
They were places where the poor could access a range of services: healthcare, education, general advice, shelter and assistance. There were ten settlements in England, seven of them in London
Funded by philanthropists, those from a university would meet the working poor, hear of their problems and at the same time they developed empathy with them. They could experience what it was like to be poor.
Helen Meller, author of a Hilda Cashmore biography and Anne Joslin of Wellspring Settlement spoke of Hilda Cashmore's role in Bristol, Manchester and India, where she subsequently worked. Bristol Radical History Group and Bristol Quakers were also represented.
Gordon Young