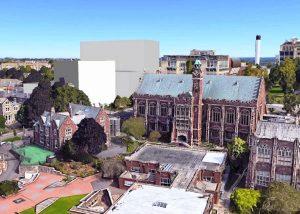 New Arts and Social Sciences Library, Hawthorns Hotel Site, Woodland Road
The proposed new library will be located on the site of the current Hawthorns building. 2,000 study seats for students ranging from quiet individual to collaborative study spaces, accommodation for 420,000 books + 70,000 journals, a Cultural Collections Centre, and public access café, event and exhibition spaces. The Society supported the University's Masterplan which the Council adopted in 2006. The Society continues to support a development of a world class library on the former Hawthorns Hotel site but regrets that it cannot support this proposal.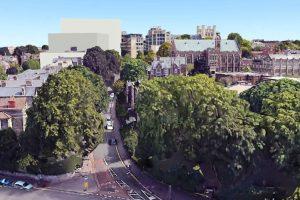 The Library would be 55% larger than the library in the 2006 Masterplan. The Library would far exceed the footprint of the Hawthorns, it would occupy practically all the site. The height of the Library is taller than the Senate House even though it starts from a lower base. The distance views (above and left) show that the Library will alter the skyline from all directions.
The Library will stand out as a white, unarticulated block. The Senate house, the Wills Tower and the Wills Physics Laboratory create architecturally sophisticated outlines on the skyline. The Library would be an extremely large white masonry slab. The Library would dwarf its neighbours which include the Grade II listed Bristol Grammar School. The site forms an important corner bounded by a regular estate of large, architecturally ambitious detached and semi-detached villas, many of which the University has sensitively converted and reused. Students and their parents particularly appreciate that the University is imbedded into the city. The Library's scale would be a substantial step-change in both mass and height. The massive elevations would overbear and dominate the upper parts of Elton and Woodland Roads. The footprint and height of the proposed building in the Woodland Road/Elton Road area, however designed, would seriously damage the Conservation Area.
Bristol Civic Society full response.
Original Civic Society January review.
John Frenkel
johnfrenkel5@gmail.com