Our 31st Blue Plaque has made history not only for the person commemorated, but as the first Blue Plaque to be installed on a working prison in the UK. Placed on the Old Main Gate to HMP Bristol (Horfield Prison) in Cambridge Road, BS7 8PS, it recognises Theresa Garnett. She was a suffragette who was imprisoned at Horfield in 1909. At that time, there was a women's wing in what is now an all-male prison.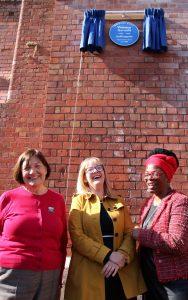 The honour of unveiling the plaque on 1st October went to the three most senior elected women on Bristol City Council: Deputy Mayor Asher Craig, and Cabinet members Helen Holland and Nicola Beech.
Theresa Garnett's most famous action in the campaign for women's right to vote took place at Temple Meads Railway Station in November 1909, when she assaulted Winston Churchill with a whip, calling out 'Take that in the name of the insulted women of England!'.
She was arrested for assault but was found guilty of disturbing the peace – contemporary reports, including Churchill's, stated that she had not actually hit him. Her sentence was a month's incarceration in Horfield Prison. She was later awarded the 'Hunger Strike Medal for Valour' by the WSPU (Women's Social and Political Union).
The Blue Plaque is part of a wider education project at HMP Bristol/Horfield Prison which has been delivered by Emma Lilwall, an artist and art teacher working for Weston College's Prison Education Service in Horfield. The project focused on women's rights, and included creative writing, and the production of a mural on the wall to the former women's wing in the prison in which the Garnett was held (our featured image), with four other suffragettes, who are named on the mural.
Bristol Museum Service has also contributed to the project. Information about the art project, the plaque and the stories of all of the suffragettes imprisoned in Horfield will be on their 'Stories' website. A large QR code located outside the prison in Cambridge Road also links to this website.
Lori Streich