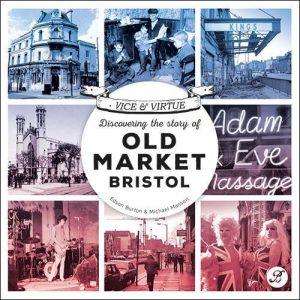 Vice & Virtue: Discovering the story of Old Market – a talk by Mike Manson, editor of Better Bristol and well known local author.
'Medieval market,' 'bustling High Street', 'wild west', 'a wasteland', 'massage parlours' 'gay area' 'up and coming.' Old Market conjures a myriad of conflicting associations in the minds of Bristolians. There is some truth to all these associations. They reveal the story of Old Market's brightest hour as part of Bristol's shopping Golden Mile, the turbulent inter-war years, the impact of war, post-war decline brought on by housing, road and retail redevelopment, rejuvenation by sexual and ethnic minority groups.
Vice and Virtue details each phase, introducing the audience to the people, the institutions and the processes that have created Old Market's rich heritage. The title is a playful nod to complex and interlinked themes that have defined this area for centuries.
Tuesday 26th March at Trinity Community Arts, Old Market 7.30 pm
Tickets are £5 each and may be booked in advance using the PayPal button below or just turn up and pay on the night.
Mike Manson is the editor of Better Bristol and the author of four books on Bristol: Bristol Beyond the Bridge (Past & Present Press), Riot! (Tangent), The Hidden History of St Andrews (Past & Present Press) and Vice and Virtue – co-authored with Edson Burton – (Bristol Books). His Bristol-based novel, Where's My Money?, was featured in BBC TV's The Books that Made Britain. 'Wonderfully funny' Fay Weldon said of his latest novel, Down in Demerara.