Sampson Court: a redevelopment of 25 Redcliff Street through to St Thomas Street.
This development is more evidence of the strong city centre residential property market. Change Real Estate, a local development partnership propose to develop the land between Redcliff Street and St Thomas Street (inside the red line on the map below) to construct 117 flats over commercial floor space. The scheme's name will be Sampson Court. The Society welcomes the proposal to demolish and redevelop buildings of little architectural quality that do not contribute to the area's vitality.
The scheme will retain 14 St. Thomas Street, an unlisted 19th century warehouse of merit. The location in Redcliffe gives an opportunity to construct the best possible residential accommodation. The Society supports the limited but realistic proposals for street level commercial use.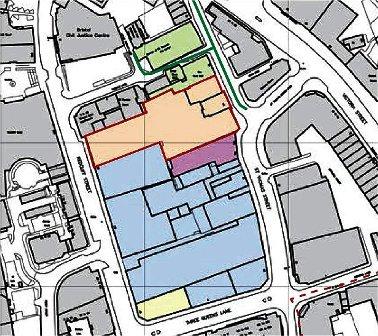 The Redcliff Street frontage of five storeys will be equal to unbuilt planning permission on the neighbouring site coloured blue on the plan. The Society and the Council were concerned about the impact of the scheme on the historic finer grain streetscape of the St. Thomas Street. The new building would have dominated the nearby Grade II listed Wool Hall and swamped the retained 14 St. Thomas Street. Change has recently revised this elevation to set back the higher floors behind the cut-off line viewed from the opposite side of the street. The revisions have given back to 14 St. Thomas Street its pitched roof. The scheme will not affect local views. The design of both street facades is acceptable following a revision to remove wooden cladding.
The Society remains concerned about the proposed height of seven floors in the centre of the scheme and the degree of shadowing of the apartments that line the internal courts. The Council has established planning policy that it will apply to this aspect. The scheme will improve the public realm. There will be a new footpath from Redcliff Street to St Thomas Street. The scheme will repair and renew the northern part of St Thomas Street with traditional setts.
Bristol Civic Society's full statement on original proposal [PDF, 112KB] Right-click to download, click to view.
John Frenkel
johnfrenkel@blueyonder.co.uk