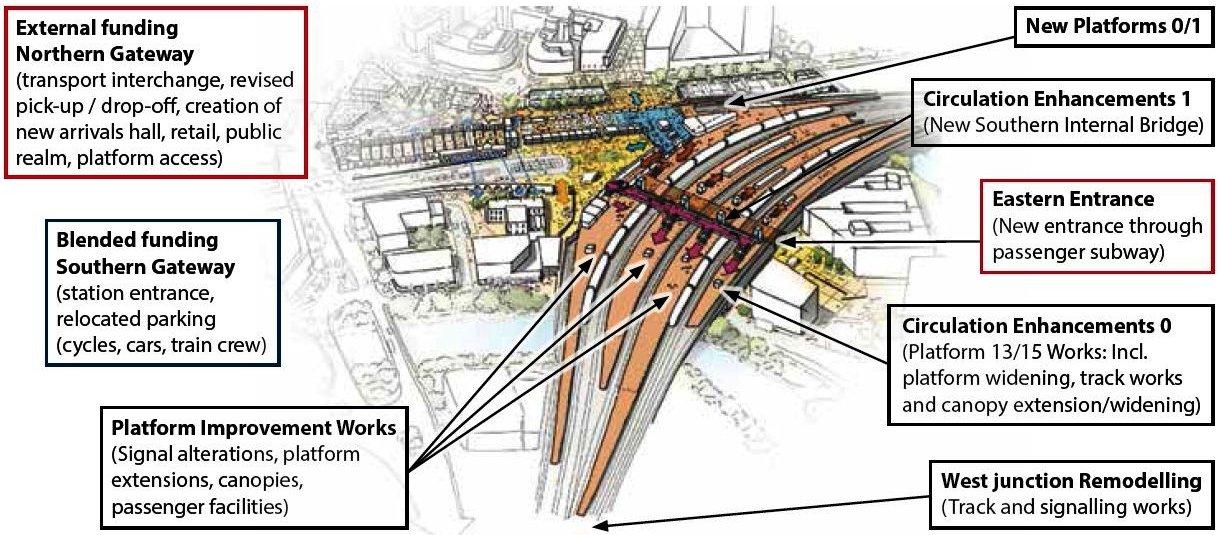 After many years of waiting, there now seems to be some momentum towards specific plans for Temple Meads station. Before COVID-19, passenger numbers using the station had been growing fast, and changes are essential to cope with the forecast doubling to 22m a year by 2030. A masterplan study is due for completion by summer 2020. These proposals are the first phase of plans for the wider area of Temple Quarter and St Philips Marsh. The Temple Meads station proposals include:
roof refurbishment – by 2023.
an enhanced northern entrance, to include a new concourse in the Midland engine shed, with ticket office and retail outlets, and development of public realm and buildings between the entrance and Temple Quay – by 2025 – 2029.
a new eastern entrance, with access through the University of Bristol's new Temple Campus site – by 2022.
a potential new southern entrance, on the Bath Road, with direct access to the station across a new bridge over the water and Cattle Market Road. This is a new proposal, which is still being worked through. It is at least 5 years away from implementation.
new and enhanced internal station passenger circulation. This may include a new passenger platform bridge to take the pressure off the subway.
Some of the proposed main changes in access to the station are:
the buses that currently access the ramp (the minority of nearby bus routes) will instead use bus stops on The Friary, and passengers will enter the station by the northern entrance.
there will be a larger vehicle-free area at the top of the ramp, moving taxis further back. The ramp will not be available for drop-off from private cars: other locations will be made available.
pedestrians will enjoy an enhanced direct route between the Brunel Mile crossing of Temple Gate and the northern entrance.
bikes will be parked at a hub outside the northern entrance, instead of on platform 3.
The Society has had the opportunity to comment on the emerging proposals. We think that the configuration of connection points to taxis, buses and private cars is sub-optimal, but probably the best that can be achieved given the physical constraints. The plans place pedestrians at the top of the transport hierarchy, and we support that. We support the improvements in public realm outside the northern entrance.
When the draft masterplan will go to consultation later in 2020, we look to see more on:
access from the east and south.
wayfinding signage to cope with the dispersed access points.
specific plans for provision for disabled.
a cycle route to the new hub that is both direct and separate from the pedestrian route.
drop-off points for private vehicles, both access and management.
We will continue to comment on more detailed plans as they emerge.
Alan Morris
The following link takes you to the full BWA/BCS response.