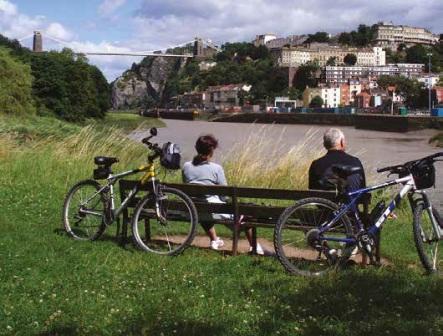 Bristol Council has produced a draft cycling strategy document, introduced as follows:
"Bristol's first comprehensive strategy to encourage more people to cycle was published by Bristol City Council today (Monday 7 July).
Available for comments until 11th August, the ambition framework sets out how cycling can be made a simpler, safer and more attractive option for anyone whatever their age or cycling experience.
Currently, although the number of cycling commuter trips has doubled, cycle journeys now make up eight per cent of journeys to work. The strategy sets out a commitment to increase this to 20 per cent by 2020, as well as continuing to invest £16 per head of population per year to deliver cycle improvements.
The new strategy addresses the challenges and barriers that keep people off their bikes or not confident enough to try cycle journeys in the first place. Future investment will be targeted to deliver innovative projects in six priority areas and towards the creation of a safe cycle network across the city."
The Society commented on the draft:
"Bristol Civic Society welcomes the draft Bristol Council cycling strategy document, but thinks that significantly more work is needed to make it a robust strategy.
In summary:
BCS agrees with much of the high-level aims.
The proposals for age-8-to-80 infrastructure need more thinking through and more explanation.
Whilst the strategy is valuable as a public visionary commitment, we think that the description of how it will be achieved could be more convincing.
Cycling strategy needs to be integrated with (a) public realm improvement and (b) pedestrian provision.
The strategy should include an aim of improving the facilities at the start and end of journeys.
The strategy should aim to protect cycle routes where there is a threat from privatisation of public realm.
The presentation of the document needs thinking about. We welcome its unstuffy production design, but the writing needs editing and better structure to make the messages simpler and clearer. And it needs to address audiences other than enthusiastic cyclists, otherwise it runs the risk of being seen as evangelical, which will threaten wide acceptance of the strategy."
Alan Morris
alan@morrises.fastmail.fm
Bristol Civic Society's full response [PDF, 156KB] Right-click to download, click to view