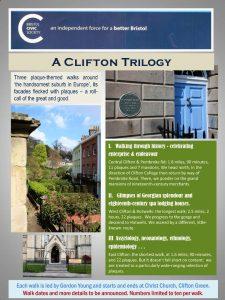 Bristol Civic Society members may have already read Gordon Young's Clifton Remembers in Better Bristol about the many fascinating commemorative plaques marking the homes of eminent residents scattered around Clifton and Hotwells. Gordon has kindly offered a guided early summer walk of the plaque sites and the people behind them, bringing the subject to life in a series of three distinct walks.
Walking through history – celebrating enterprise & endeavour
Central Clifton & Pembroke Rd: 1.8 miles, 90 minutes, 11 plaques and 7 mansions. We head north, in the direction of Clifton College then return by way of Pembroke Road. There, we ponder on the grand mansions of nineteenth-century merchants.
Glimpses of Georgian splendour and eighteenth-century spa lodging houses.
West Clifton & Hotwells: the longest walk: 2.5 miles, 2 hours, 22 plaques. We progress to the gorge and descend to Hotwells. We ascend by a different, little-known route.
Assyriology, neonatology, ethnology, epidemiology . . .
East Clifton: the shortest walk, at 1.6 miles, 90 minutes, and 22 plaques. But it doesn't fall short on content: we are treated to a particularly wide-ranging selection of plaques.
The cost is £3 per person per walk payable via PayPal, booked on your preferred dates, a Tuesday or a Thursday. Use the following links to book a place. Numbers are limited to 10 persons per walk, first come first served. Meeting point Christ Church, Clifton Green at 2.30pm
---
Tuesday 25th May – Central Clifton – SOLD OUT
---
Thursday 27th May – Central Clifton – SOLD OUT
---
Tuesday 1st June – West Clifton and Hotwells – SOLD OUT
---
Thursday 3rd June – West Clifton and Hotwells – SOLD OUT
---
Tuesday 15th June – East Clifton – SOLD OUT
---
Thursday 17th June – East Clifton – SOLD OUT