Westmoreland House and Carriageworks
This long derelict eyesore stands on the east side of the Ashley Road and Stokes Croft junction. A developer has applied for planning permission to demolish Westmoreland House, to renovate EW Godwin's Grade II* listed Carriageworks, to build new shops and 118 new homes with internal communal landscape garden areas. Within the last five years the Society opposed three schemes that were all refused. The Mayor has said that the current scheme is realistic and the Society agrees.
The planning application has stalled the Council's planned compulsory purchase of the site with Knightstone Housing Association its development partner. After 30 years dereliction local feelings run high. The local community would prefer to see the site developed by a not for profit organisation. The Society remains neutral between the developer and Knightstone; its priority is to see the site developed. The Society supports the current planning application, which appears to comply with planning policy and local concerns raised during community consultation. The demolition of the Westmoreland House tower would be a major conservation gain. The Society supports the proposed mixed retail and residential use of the site. The mass and height of the new buildings are acceptable.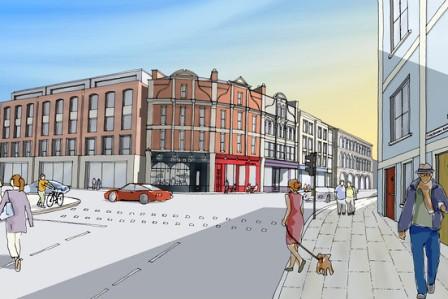 The local Carriageworks Action Group is concerned about the scheme's financial viability. Furthermore, the Knightstone scheme offered affordable housing on the site but the current developer does not. The Society lacks the resources to comment on these financial aspects. It has responded only on scheme's impact on the public realm. The Society remains concerned about aspects of the design. In particular, the success of the restoration of the Grade II* listed Carriageworks will depend on the quality of the detail of the restored window glazing structures and the new mansard roof and dormers. The Society welcomes the developer's agreement to the Council's request for a city centre development without parking, which solves many of the problems that a busy Ashley Road entrance would create.
Bristol Civic Society's full statement [PDF, 386KB] Right-click to download, click to view.
John Frenkel
johnfrenkel@blueyonder.co.uk