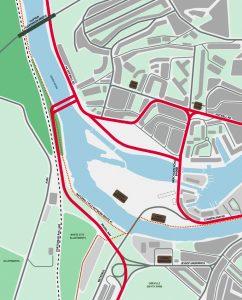 The Council has published three options to simplify the Cumberland Basin road system which was constructed in an age that championed motorway-style urban road systems. The elevated roads and the swing bridge currently require extensive maintenance. The Society supports the ambition to release highway land to develop a new city quarter with space for new homes, with high quality green open space and improved and safer walking and cycling routes. The elevated roads harm the views of the Clifton Suspension Bridge, the Avon Gorge, Ashton Court and Bristol Harbour, a point taken up by the national press as this item in the Guardian illustrates.
The Council commissioned a report on the options to replace the road system from the Arup Group, international consulting engineers. The Society is critical of the current consultation. The public are asked to respond on information that the Council has chosen to publish whilst it has kept the Arup Report secret. The plans include only a low level of detail limited to transport routes. We cannot understand critical matters, for example the effect of each of the proposals on nearby communities. The consultation is a wasted opportunity. All the three options would have as great an impact on the area as the 1960s road system had when it was constructed.
The Society's concerns about the drawbacks and unanswered questions that relate to the three options are set out in the linked response (below). The Society would be surprised if the unpublished Arup report did not consider less ambitious options which have been discussed in the past. To repair the bridge and demolish several of the slip roads would cost less, would simplify and reduce the land occupied by roads and have a lower impact on the landscape to the west or the residential areas and release land for development. A more modest option would have a better chance of delivery. The image shows the Western Option with a new road on the Avon River's west bank and a new bridge similar to the Bedminster Bridge gyratory.
John Frenkel
Western Harbour consultation flyer.
The Arup report (Western Harbour Feasibility Study: Final Transport Feasibility Report) shows the full list of 9 road options in an appendix.