St. Augustine's Reach and Millennium Square
Everyone will recognise this site where Bristol's landmark Performing Arts Centre might have been. The Council have signed a development agreement, following a design competition with Railpen/Bell Hammer to deliver a mixed-use development of a hotel and offices (main image) with space for restaurants, bars and entertainment on the ground floor. Allford Hall Monaghan Morris are the architects.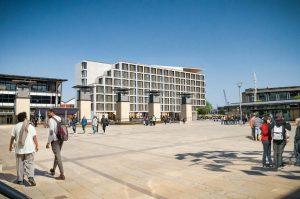 The Society has long encouraged the Council to develop this outstanding harbourside site. The Society supports the mix of uses but regrets that it cannot support this scheme. The office is out of scale with its surroundings and would overbear surrounding buildings which include the Grade II listed Bush House and would block important views across the city. This is the last and most important site on Canons Marsh. The site dominates views in all directions and particularly the focal Harbour/St. Augustine's Reach junction. A commercial building that is adequate in other locations is not acceptable on this site which demands a building of architectural significance.
The Society understands that the hotel design is work in progress, but we cannot support the direction of travel. It is disappointing to make a negative response. Without imaginative design, hotels with their standard room modules create repetitive elevations. This elevation presents a grid of equally spaced room bays without an overall architectural envelope or composition. This design does not create a sense of place or local character.
John Frenkel