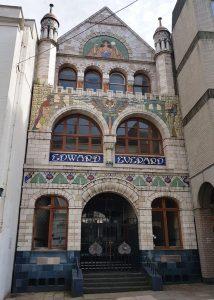 The developer, Artisan Real Estate and Alec French Architects invited the Society to a presentation of a proposal to renovate and reuse the empty offices to deliver a mixed-use scheme of a 250 room 4* hotel, 6 serviced apartments, a residential block, co-working space, and retail units. There is a real prospect that this scheme will be delivered. Artisan recently received an award for their New Waverley development, a large mixed-use scheme in heart in Edinburgh's Historic City. The Dalata hotel operator has a long running partnership with Artisan.
The site consists of three buildings that face Broad Street; the NatWest Court to their rear covers the site of the former Everards Printing Works. The scheme will retain and repair the existing buildings. The Society hopes that the replacement windows will enliven the grey brickwork and ribbed precast concrete panels that form the external elevations. Active frontages with round the clock activities will improve the passive surveillance along Nelson Street, Broad Street, John Street and Tower Lane. The scheme will improve Nelson Street.
New frontages serving retail / office space will break the large blank street level façade. The staircase that encroaches onto the Nelson Street pavement will go to be replaced by a generous new stairway to lead up to Tower Lane. A majority of the plant at roof level will be removed to declutter the skyline. There will be several one floor roof top extensions, located away from any nearby heritage assets. The Society fully supports the proposal but has raised a concern that any roof extension should not compete with the spire of St. John-on-the-wall.
The full BCS response [PDF].
John Frenkel
johnfrenkel@blueyonder.co.uk