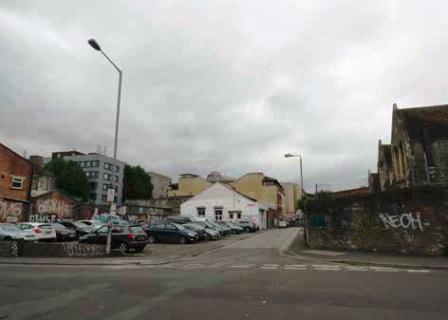 7-29 Wilder St. 1-3 Backfields Stokes Croft
The Society is pleased that there will be several major developments around Stokes Croft. The Westmorland House redevelopment has begun. The Watkin Jones Group proposes to demolish a whole block at 7-29 Wilder Street to build 285 student bedrooms. Expect to see proposals to redevelop the Coroner's Court/Lakota site and two more developments, one on each sides of the south end of the street. These schemes may bring forward the redevelopment of other local low grade commercial buildings. Although there is unmet demand for student accommodation, the Society agrees with local residents; they say that more students would undermine the local community's balance. Council policy supports residential space within large student accommodation developments.
To increase street level activity during the day the Society suggests inclusion of small, flexible workspaces on the ground floor. The close-grained layout of the original 18th century estate is a constraint. The height of this development would shadow and overbear the narrow surrounding streets. The Society makes several suggestions. The new building should align with the nicely detailed St. James House to the west and step down to a domestic scale at Upper York Place to avoid overwhelming the retained Grade II listed 25 Wilder Street. It would be attractive to use the window ratios and proportions of the neighbouring vernacular buildings. This large building requires an architectural feature to signal the main entrance that should give a view of the interior courtyard.
The Society expects bespoke student development to be adaptable to other uses. Multiple developments give the opportunity to improve the public realm, which could include an upgrade of the setts street and pavements. The junction of Backfields with Moon Street could form an attractive public place.
Bristol Civic Society's full response [PDF, 139KB] Right-click to download, click to view.
John Frenkel
johnfrenkel5@gmail.com