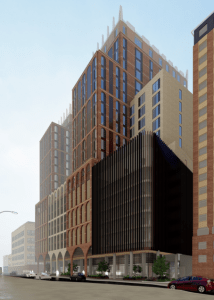 The Civic Society supports the proposed redevelopment of the existing car park. We consider that it's outdated and does not contribute positively to the appearance of this part of the City Centre.
Nevertheless, some members have questioned the need for demolition and suggested that the opportunities for renovation and adapted use should be assessed in more depth. Some even challenged the need to provide a replacement car park. Surely cars will not be part of the future Bristol City Centre?
Although the majority questioned this particular location for such high-density residential use, the idea of creating co-living for young professionals who can't yet buy their own property was attractive and deserves credit.
In contrast there were strong objections to the proposed replacement development. It was generally considered to be far too high with adverse impacts on views,
Opinions varied about the elevational treatment with many expressing their appreciation of our 'Bristol Byzantine' buildings with their intricate variety at street level, in-between and at roof level. However, some members felt strongly that what is now being proposed is a pastiche: something that mimics a historic style without staying true to it.
We look forward to seeing more details as the project proceeds.
Simon Birch