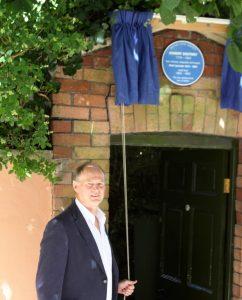 On Monday 18 June a plaque was unveiled at Kingsdown Parade to commemorate a celebrated Bristolian. Robert Southey was born in Wine Street in 1774 and a plaque is sited on a post-war building there. His early schooldays were spent on St Michael's Hill. The Panel welcomed an approach from Professor Robin Bailey of UWE with evidence that 87 Kingsdown Parade had been Southey's matrimonial home.
Robert Southey was a poet, historian and biographer. He was handsome: although he denounced Byron as belonging to a 'Satanic school' of poetry, Byron admitted "The varlet was not an ill-looking knave".
He endowed us with voluminous correspondence which gives a detailed picture of his surroundings: the Bristol of Southey's time was full of wealthy, flamboyant merchants. He clearly disapproved, writing, "In a word, pride and ostentation are publicly professed. Christenings and burials pompous beyond imagination. A man who dies worth £300 will order £200 of it to be laid out in his funeral procession".
Well, Southey didn't get a typical Bristol send-off when he died. He's buried in Crosthwaite church in Keswick.
But the plaque will forever connect him with the city of his birth.
The unveiling ceremony was a private event with only a dozen in attendance.
Gordon Young