Land to the rear of Redcross Street, Old Market.
The Society endorses the response of the Old Market Community Association who support this proposal to build 75 residential apartments on a back-land site between the north of Old Market Street and Redcross Street.
CTU Partner Limited (the developer) has permission to extend and redevelop Perrett House, the block of red brick flats shown centre left in the photograph (above). The proposal would demolish the three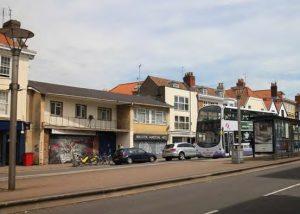 blocks with the white roofs to the left of the photograph and the other buildings with red roofs to clear a site up to the backs of the shops on Old Market Street. The site includes Alderman Steevens Almshouses. The Charity dates from 1649 when Almshouses were first built for Old Market's poor and needy. The original 17th Century buildings are long gone. The Trustees agreed to vacate and move to a purpose-built assisted living block. The developer's affordable housing provision will be Trust's requirement for 14 1-bed dwellings suitable for older people of the parish and those with additional needs.
The other photograph shows two inappropriate 1960s, two-storey in-fill shops that the scheme will replace. Subject to agreement about the details with the conservation officer. the replacement buildings will be facsimiles of the Grade II listed building that stands to the left of the graffitied shuttered shop.
John Frenkel
johnfrenkel5@gmail.com