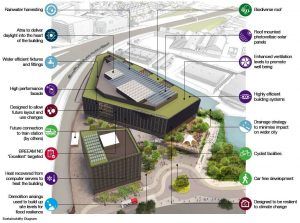 The University has outline planning permission for the form and access to the proposed new academic buildings and has now applied for permission for the details of the design. The building is so big that it is difficult to illustrate. The aerial image shows the development on the site of the former Post Office parcel sorting office. The Feeder Canal is at the bottom and the railway slices of the top left corner.
The Society supports the design of the two buildings and their setting in the landscape. What you see is one large building in the foreground, bottom left and a larger building in the centre of the image. The larger building breaks down in several buildings separated by courtyards within a glass curtain wall which. Glass of different colours/textures with mirror glass sections will form the curtain wall. We are not convinced by the extent of the mirror glass component. Large areas of reflective glass on these long elevations could appear dominant.
The Society has two major concerns. The local road system is above capacity many times of day. How will the local road network cope with increasing number of railway users, the influx of staff and students at the new University Campus, the inflow of employees and residents to the new commercial and residential sites in the Silverthorne Lane Character Area, and the arrival of new employees and residents at the Temple island site? Although the University plans to minimise vehicle access to the new Campus, it must nevertheless produce additional traffic, including buses, that will incrementally increase traffic density.
The second concern is the lack of pedestrian bridges to integrate the Campus with the east bank of the River Avon. The University has an interest in much of the Avon Street, former gas works site. There is developer activity in Freestone Road, Kingsland Road and Silverthorne Lane. The Temple Quarter Framework proposes two new pedestrian bridges over the river. The 'Silverthorne Bridge' close to the current Kawasaki Garage and the 'Lock Bridge' over the former lock gate at the junction of the Harbour and the Feeder Canal. The Society does not understand why these bridges remain unfunded.
John Frenkel