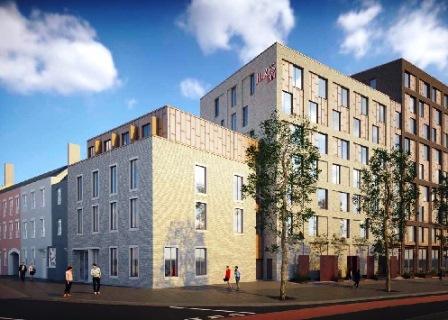 Plot 4 Glassfields
Glassfields is the site of the former Guardian Exchange building. Royal London Asset Management have refurbished the historic Broad Plain terrace and then plan to develop the cleared site on Temple Way to build a 198-room Jury's Inn. The Society supports the new hotel which will serve the emerging business and leisure uses in Old Market and the Temple Meads Enterprise Zone
In Broad Plain the hotel development will integrate the derelict Grade II listed pub, Printer's Devil. The elevation responds to the detailing and materials of the Grade II listed Georgian terrace. Along Temple Way the height of the building steps up to the south of the site and will be clad in darker bricks. Curtain wall glazing will provide views and activity at street level. When complete the four Glassfields plots will enclose a green courtyard with planting and external seating; a significant planning gain for the public realm. There will be a courtyard hotel entrance to the hotel. Parking will be off-site. The local character is one of large bland brick buildings widely separated by an urban motorway. The elevations are safe and well-mannered. The Society has suggested that the area could support a striking design that stands out from the surrounding townscape. The Society would welcome a decision by Jury's to attempt a more conspicuous design to draw attention to their hotel.
Bristol Civic Society's original response [PDF, 256KB] Right-click to download, click to view.
To locate this site, use this link to the Google map of the area.
John Frenkel
johnfrenkel5@gmail.com