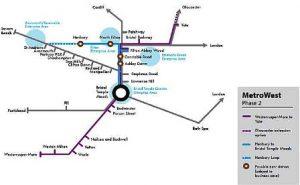 Moves for massive improvements in MetroWest, Bristol's suburban railway system, are now under way. Dreams of campaigners for many years are about to become reality. Public consultation on the first stage has started. Subject to gaining planning permission for two new stations in North Somerset, the Portishead line will re-open for passenger traffic by 2019. Phase 1 will bring fast and frequent train services between Portishead and Bristol, alleviating chronic congestion in Gordano and south Bristol. Half-hourly services between Bath, Oldfield Park, Keynsham and Bristol extending to the Severn Beach line are promised.
The West of England Transport Board last week reviewed the Phase 2 proposals and gave the green light to proposals for restoring passenger services to Henbury in north Bristol. Passenger services closed in the Beeching era, but the line has continued to provide an important direct link for freight traffic between Filton Junction and the port at Avonmouth. Now the line on the Henbury Spur is to be re-opened, with new stations at Henbury, North Filton and Ashley Down providing regular services to Temple Meads and beyond. As part of the package, services to Yate will also be increased dramatically. The object is to relieve the overloaded road system in north Bristol.
Campaigners were disappointed that the most ambitious part of the project, seeking to restore the entire Henbury Loop and providing a direct passenger service between north Bristol and Avonmouth, was shelved for the time being. The Society supported their request for a review of the business case, as many felt it had undervalued the economic benefits of the line and the importance of the transport link between urban expansion on the North Fringe and Severnside.
The Society also felt that it was a mistake not to include a station at Ashton Gate on the Portishead line and this is a missed opportunity to provide an important travel link in south Bristol.
However, the Society warmly welcomes the proposals as they stand and congratulates the West of England Partnership for bringing these projects to an advanced stage where a good suburban rail service becomes a reality, and looks forward to the case being made for a new station in the Ashton Gate area and completion of the Henbury Loop.
Use this link for more information from the MetroWest website.
David Cave
dave.cave@blueyonder.co.uk