On Sunday 29 April, a plaque was unveiled by the Right Honourable The Lord Mayor of Bristol, Councillor Lesley Alexander.
John Henry Iles was born in Bristol in 1871 and the plaque, at 91 Sommerville Road overlooking St Andrews Park marks his matrimonial home.
He was a leading figure in the history of the British brass band movement, founding the National Brass Band Championships, the world's most prestigious brass band competition, which is still held today. He was also highly successful in the amusement park business – his empire spanned Europe, from Belle Vue, Manchester to Berlin and Cairo.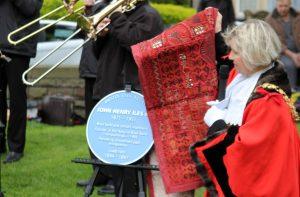 John Henry Iles played first class cricket for Gloucester in 1890 alongside the great W G Grace. The county team pitch is just a few streets away.
Members of the Worshipful Company of Musicians (who award the Iles Medal annually for services to brass bands), and family members attended. To celebrate the unveiling, 22 members of the City of Bristol Band performed music (see our featured image), and Band Chairman Steve Ellis spoke, along with John Iles, grandson of J H Iles.
Gordon Young