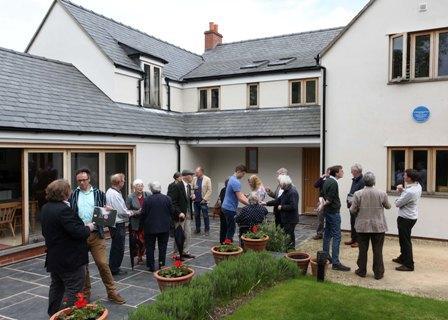 A blue plaque was unveiled on Tuesday 17th May 2016 to honour a distinguished physicist. Sir Frederick Charles Frank was born in South Africa, spent his childhood in Suffolk, studied chemistry at Oxford then worked as a research physicist in Berlin (1936-8), and briefly as a colloid chemist at Cambridge. At the start of WWII Frank joined the chemical warfare laboratories at Porton Down but was moved quickly to the Air Ministry.
We can, however, claim him as a worthy citizen of our city: he lived in Orchard Cottage, off Grove Road, Coombe Dingle for forty-five years. Throughout that time he was associated with the Physics Department at Bristol University, continuing to be active in research long after his retirement in 1976.
F C Frank was awarded the OBE for his wartime work in Air Ministry Intelligence, where he specialised in the identification of German radar and navigation systems. His contributions to physics were significant and remarkably wide-ranging. These include polymers, liquid crystals, the mechanics of the Earth's interior, particle physics and in particular, understanding how crystals grow. His distinction was recognized by the award of several honorary degrees and medals from various national academies.
The unveiling was attended by many former colleagues and current members of the University. Professor John Steeds FRS delivered a tribute.