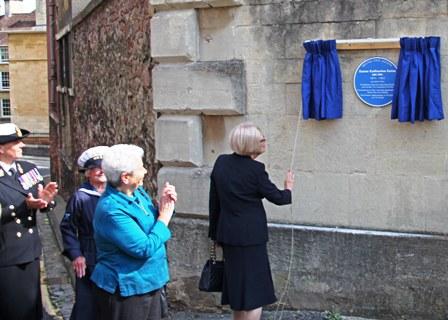 A Blue Plaque was unveiled on 7th September 2017 to Dame Katharine Furse. The plaque celebrates the life of this inspiring, if previously locally unknown, woman. The daughter of literary critic and poet John Addington Symonds, Katharine was born in Clifton Hill House in 1875. She joined the British Red Cross Voluntary Aid Detachment, becoming Commandant and leading the first VAD Unit sent to France in 1914. She resigned, frustrated that nurses did not have the power to introduce reforms that they knew from their first-hand knowledge were necessary. But her organisational capabilities were recognised by the Navy. In 1917 she was asked to lead a new women's naval auxiliary. This became the Women's Royal Naval Service, better known as the Wrens (WRNS). In the inter-war years she set up the World Association of Girl Guides and Girl Scouts and was Director of its World Bureau.
Fitting that much onto her plaque was a tall order: we had to omit Dame Katharine's formidable achievements on the ski slopes, in a toboggan, and as a wood carver. And no doubt more.
The plaque was proposed and sponsored by the Association of Wrens (also founded by Katharine Furse to enable veterans to network), some 40 of whom attended the unveiling. Some in past and present uniforms. The event (including an excellent lunch) was generously organised by Bristol University, owner of Clifton Hill House. Now a hall of residence, this plaque should inspire students for generations to come.
Lori Streich