Blue Plaques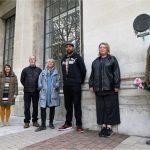 Members from Bristol's film community gathered on 5th May 2021 in remembrance of Bristolian motion-picture pioneer William Friese-Greene, on the 100th anniversary of his death on 5th May 1921.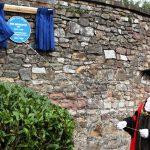 On Wednesday, 20 November 2019 the Right Honourable Lord Mayor, Councillor Jos Clark unveiled a blue plaque at Badminton School to celebrate the writer and philosopher Dame Iris Murdoch.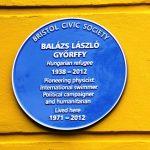 A blue plaque commemorates the life of theoretical physicist Balázs Győrffy, who fled Hungary following the Russian invasion in 1956.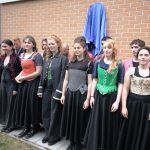 The Civic Society's 25th blue plaque adorns the wall of Brandon House, on Jacob's Wells Road, and commemorates the site of the Jacob's Wells Theatre, the first purpose-built playhouse in Bristol, which operated from 1729 to 1799.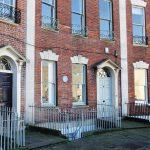 A blue plaque at 4 Berkeley Crescent commemorates the architect John Dando Sedding.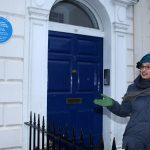 One hundred years after women voted in British Parliamentary elections for the first time, a blue plaque was unveiled in Clifton by Bristol MP, Thangham Debbonaire.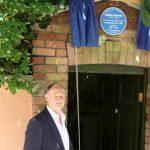 On Monday 18 June a plaque was unveiled at Kingsdown Parade to commemorate a celebrated Bristolian, Robert Southey.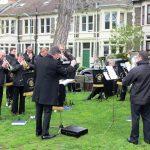 John Henry Iles was born in Bristol in 1871 and the plaque, at 91 Sommerville Road overlooking St Andrews Park marks his matrimonial home.
Blue plaques issued by Bristol Civic Society
---
Fancy putting up a blue plaque to some great woman or man who once lived in Bristol? Or to commemorate a building where a significant event took place years ago? Is there someone in the city's past who you and your family or friends think deserves more recognition? Then the Civic Society can help. In 2015, BCS took over responsibility for the blue plaques scheme previously run by Bristol City Council and a BCS 'Blue Plaques Panel' is now up and running.
There is nothing to stop any group or private individual sticking up a plaque (of any colour) on any building provided the owner agrees. The Civic Society, however, is responsible for Bristol's 'official' blue plaques. This means information is carefully checked; is the person honoured with a plaque genuinely connected with the building or site? Did they live or work there? Were they born there? And do their achievements merit the honour of a plaque?
The Panel has drawn up a set of basic ground rules. Nobody can be nominated, for example, until at least five years have passed since their death, to allow for a more objective assessment of their contribution. Advertising is not permitted and the Panel must approve the design and wording because we have agreed an established 'house style' to make sure that all BCS blue plaques are consistent.
The Panel does not itself nominate people for plaques, and nor does the Civic Society have a budget for them. The person or group nominating someone to be honoured must raise the money (currently about £500), provide evidence of connection with the site, secure the owner's consent and put the case for the nominee's commemoration. The Panel can advise on research, plaque manufacture, publicity and give tips on how to run a successful unveiling event. (The Lord Mayor may well be able to turn up.)
Society chair Simon Birch says:
"We want to take advantage of people's enthusiasm for blue plaques by encouraging Bristolians to come forward and nominate men and women connected with the city who have made an impact. They do not have to be national figures. We are just as interested in those who worked tirelessly for their own communities. And they don't have to be people from the distant past. It is just as important to honour more recent figures, so that the scheme can also reflect Bristol as it is today."
If you would like to nominate someone for a plaque, please complete an application form and email it to Gordon Young, the Panel's Convenor, at plaques@bristolcivicsociety.org.uk.
---
Use this link for Blue Plaques unveiled when the scheme was run by Bristol City Council.