Mr Mark Herbert, one of two planners at Bristol Airport hosted a group of 40 Civic Society members to talk about the history and future development of the South West and Wales premier regional airport. Mark's presentation was given in the old airport terminal building, nowadays used as the airport's admin building and soon to be knocked down as part of the airport's ongoing development plans.
Bristol has a long history in aviation both in the manufacture of aircraft and the various runways needed to handle them. Filton and Whitchurch spring to mind before the commercial Bristol Airport was opened in 1957 on the site of the former WW2 training base RAF Lulsgate Bottom.
Today of course things look rather different with passenger numbers of eight million a year passing through a terminal building (built in 2000). The success of the airport is largely based on its convenient location and the wide provision of flights to European holiday destination mainly by Easy Jet and Ryan Air, although 17% of passengers are flying on business often catered for by other airline operators.
Prompted by Government all UK airports have to create and update their Master Plans for future commercial development, whilst paying heed to consultations with local government, transport agencies and neighbours to follow a sustainable approach to ensure all proposals are deliverable.
Bristol Airport's 2006 Master Plan is currently being updated, whilst a planning application is due to be submitted to North Somerset Council this autumn, seeking consent to increase capacity from ten million passengers a year to 12 million. This would allow for growth largely within current boundaries, and cater for forecasted demand until the mid-2020s. The emerging Master Plan has been subject to two extensive public consultations in recent month, and the final version is due to be published in the spring. It will set out how growth up to 20million passengers a year could be achieved by the mid-2040s. The plan would require substantial changes to airport layout, transport infrastructure -road and rail links, car parking (autonomous cars?) and are being drawn up against significant technological, economic and social change much of it understandably unknown today. Mark made the valid point that development plans and building schedules have to be flexible to cope with changes in the economy or consumer demand.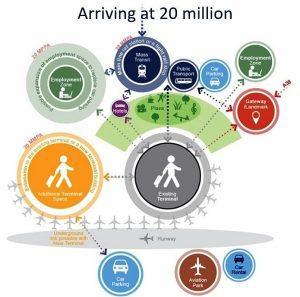 Naturally such an ambitious and wide-ranging Master Plan cannot be achieved without working in partnership with the West of England Combined Authority, North Somerset Council, Local Enterprise Partnerships, Highways England, Network Rail and extensive consultations with local communities. Bristol Airport have a website www.bristolairport.co.uk/future which shows the interesting submissions made by the public. Covering such issues as travelling to and from the airport, environmental comments on Green Belt, air pollution, wildlife, noise etc., car parking, and passenger experiences, which I recommend a look at.
Attached to this article (below) are the slides made available by Bristol Airport which provide more background on the vision of the future.
Our thanks go to Mark for his insider take on the complexities of the day to day operation of a modern airport and the challenges for the future, certainly the view we had from the meeting room's windows of the frequent take off and landings suggest that the business is thriving.
Nic Billane
Mark Herbert's slides [PDF 1.4MB]