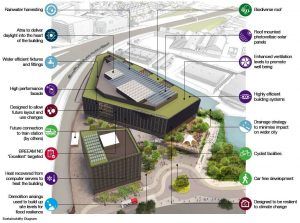 The new University of Bristol Temple Quarter Enterprise Campus.
The plans, what is happening? What will it be used for? The context in the Temple area, the design, the University's future role in the City.
Zoom Meeting: Wednesday 25th November 2020 7:30 pm
The new University of Bristol Enterprise Campus is probably the largest single development project in the centre of Bristol. The Universities, already a major element of the City's economy and culture, will with this scheme become even more important. The proposed developments have the potential not only to transform the Temple area, but to change the centre of gravity of the City.
Speakers at the event will include:
Guy Orpen, Deputy Vice Chancellor for New Campus Development, University of Bristol
Barra Mac Ruairí, Chief Property Officer, University of Bristol
Mike Keys, Partner, Feilden Clegg Bradley Studios (architect)
The meeting to be chaired by Simon Birch, Chairman, Bristol Civic Society
The meeting aims to give Bristol Civic Society members a better understanding of the whole project and there will be plenty of time for questions and answers. Please join us.
E-mails will shortly be sent out to Bristol Civic Society members with details on how to join the meeting. If you are not on the mailing list but wish to participate then please contact the events team.