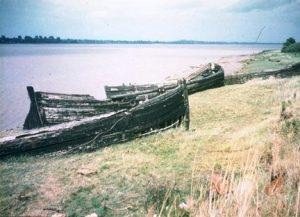 A summer's evening walk to view the famous Hulks in the company of Paul Burnett, local historian and specialist in the origins and development of the ships graveyard.
The Purton Hulks (Purton Ships' Graveyard ) are a number of abandoned boats and ships deliberately beached beside the River Severn near Purton in Gloucestershire to reinforce the river banks. Most were beached in the 1950s and are now in a state of considerable decay. The site forms the largest ship graveyard in mainland Britain.
A riverbank collapse in 1909 led to concerns that the barrier between the river and the Gloucester & Sharpness Canal would be breached. Old vessels were run aground and soon filled with water and silt to create a tidal erosion barrier. The vessels included steel barges, Severn trows and concrete ships. The boats came from throughout the British Isles and were built in the second half of the 19th century and the first half of the 20th.
Since 2000, archaeological investigations have been undertaken to find out more about the vessels and their states of decay. Explanatory labels have been provided. A fascinating and unusual display, well worth a visit.
Purton is about 40 minutes from Bristol (25 miles) with a large public car park.
There is a charge of £3.50 per head, payable on the evening.
Please register at events@bristolcivicsociety.org.uk. We plan to arrange car sharing where possible.
The visit will be on 10th July 2019. Be there by 6pm for a 6.15pm start.