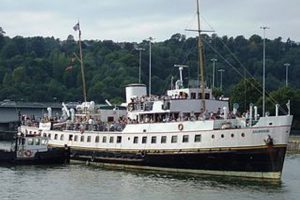 Dave Bassett of the MV Balmoral, kindly hosted a visit by Society members. To most Bristolians the MV Balmoral seems a permanent feature in the docks opposite M-Shed. But, as Dave Bassett explained, unless the Waverley and Steam Navigation Company Limited can raise £350,000 the MV Balmoral will disappear from the Avon.
Currently the ship is undergoing a refit in order to retain its passenger certification, but if a ship of the size and capacity of the MV Balmoral is to be viable, it is essential that navigation infrastucture such as lock gates, pilot skills, piers etc., be maintained.
It takes very little time for silt to block rivers, but the passage of a passenger ship with twin screws keeps the channel open.
The MV Balmoral belongs to a long tradition – begun 125 years ago – of providing day trips for Bristolians to Clevedon, Ifracombe, Lundy Island, Cardiff and the Gower Coast. Just like an old building, the ship contains a living record of its history. What is now the forward lounge was, before the introduction of drive-on/drive-off ferries, a car deck. Sadly, the shipyard which built MV Balmoral in 1949, John I Thornycroft, is no more, although Bristol still has a dry dock of suitable size.
As Nic James, the MV Balmoral Fund Director said, the Balmoral is about much more than day trips. It is as much a part of our heritage as a Grade I-listed building. "It is vital we raise £350,000 to carry out a major refit in the winter of 2013/14."
Campaigners have already raised £70,000 of the £350,000 needed and Bristol Civic Society has recently donated £100 to the fund.
Volunteers are always needed to help with fund-raising, help the crew and for maintenance work. Please contact Dave Bassett (Tel: 07868 421338; email: bassettdave@yahoo.co.uk; or visit www.mvbalmoral.org.uk)