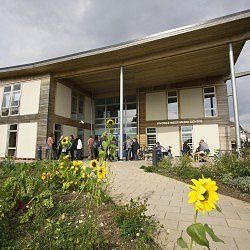 A visit to the Knowle West Media Centre (KWMC). KWMC is an arts organisation and charity that enables individuals and communities in Bristol to get involved in community activism, education, employment, and local decision-making by using digital technologies and the arts.
Their activities range from after-school groups for young people and innovative energy-saving projects, to music workshops and art exhibitions. Many of them have been replicated elsewhere in the UK and Europe. They undertake bespoke creative projects such as graphic design, video production, and social media consultancy.
You will find out about KWMC's beginnings in a community-based photography project, and how the organisation has developed into a creative hub with a local focus and international significance. We will be shown around their beautiful building and explore its media facilities and environmental features. The elegant, sustainable strawbale-clad, light-filled, double-height space was co-designed in 2007-8 by Bristol architects White Design and local young people.
7pm Knowle West Media Centre, Leinster Avenue, Bristol BS4 1NL.
Members and Non-members £5 (donated to the centre)
To book a place on the tour email : events@bristolcivicsociety.org.uk or phone 0117 9621801