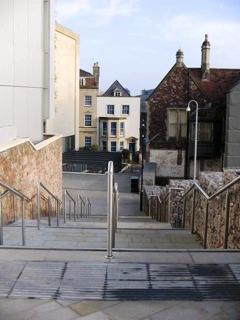 Anyone going up or down St Michael's Hill will be aware of the new Life Sciences building, but what is not so obvious is the creation of a new open public space and two new pedestrian routes into the Royal Fort area.
Behind the Life Sciences building, demolition of unlisted buildings has taken place to open up space for students and the public.
Step access has been created up the side of the new building from St Michael's Hill. New terraces and seating adjoin the footpath, which opens out to a large public area.
The space is also accessed by a new pedestrian walkway to Tyndalls Road, showing off the new building. There is much of interest in the design of the Life Sciences building, using a variety materials, and includes a vertical garden.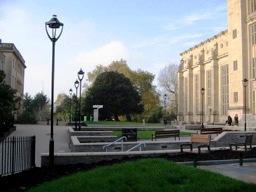 The new space flows into the front of the Royal Fort. Wide paving, seating and low level walls, ideal for students to perch on abound, along with plentiful cycle parking.
The new space brings to life the Royal Fort building, no longer blighted by car parking and temporary storage. Open views over the Royal Fort gardens to the Wills Memorial Building are also more prominent.
The created space is impressive, but some of it may be temporary. Outline planning permission has been granted for a new mathematics building east of the H H Wills Physics Laboratory. Development of this £26 million building has been delayed due to lack of funds.
This hidden gem is well worth a visit.
Sue Brazendale
2015