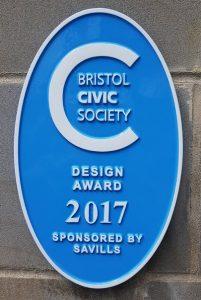 This year's Design Awards will be held on Thursday 21st June 2018, doors opening 6.15 pm, presentations start at 7.00 pm.
The venue will be The Station, Silver Street, Bristol BS1 2AG a new venue for us and well worth a visit! Very good access for public transport, walking and cycling. Car parking nearby too.
Doors open at 6.15 pm with optional tours of the adjacent YMCA, housed in the recently refurbished former Police Station and a City Centre jewel, do come and see for yourselves! There will be a cash bar and appetising nibbles.
Presentations start at 7.00 pm and will be chaired by Jonathan Foyle, award winning BBC broadcaster, architectural historian, advocate for historic sites and passionate communicator for heritage sites.
This year we will unveil five superb award winners and we will hear from the successful teams and learn about their design choices and design processes.
Please do book up for this ever popular event – booking is essential and places limited. Tickets may be purchased at http://groupspaces.com/BCS/item/1175660
Events Team