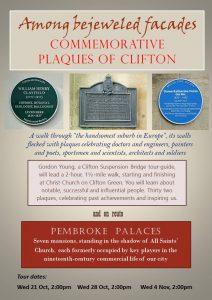 Clifton is flecked with commemorative plaques: they bejewel facades and remind us of the people and events of the past. The plaques can be found in many colours and styles. They form a roll-call of the great and the good, and those who have enriched and contributed to our country.
Gordon Young, a Clifton Suspension Bridge tour-guide, will lead the 2-hour, 1.5 mile  walk starting and finishing at Christ Church on Clifton Green. The walk will be over flat terrain and will cover thirty-two plaques.
Wednesdays: 21st & 28th October and 4th November 2020 at 2.00pm.
COVID-19 regulations limit the number of members on each walk to five, so early booking is essential. If you wish to book a place on one of the walks on a first-come, first-served basis, email events@bristolcivicsociety.org.uk with your first, second and third choice dates. We will then confirm availability to you. The walks are limited to Civic Society members and are free.