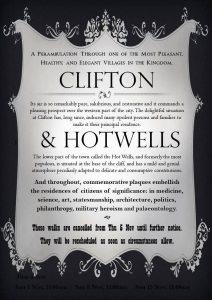 Gordon Young, a Clifton Suspension Bridge tour-guide, will lead a 2-hour, 1.5 mile walk entitled 'Celebrated Citizens of Clifton and Hotwells'. You will learn about 26 plaques which honour famous figures as well as relative unknowns who invented, created or achieved something remarkable.
Sunday: 1st November 2020
Due to COVID-19 restrictions, walks originally scheduled for the 8th and 15th November 2020 are cancelled. They will be rescheduled as soon as circumstances allow.
The walk is through the western reaches of Clifton, taking in the Mall. Royal York Crescent and Windsor Terrace before descending the Hotwells slopes to Dowry Square. Hence the walk involves descent to Hotwells and a climb back up to Clifton.
The three walks start from Christ Church on Clifton Green at 11.00am. Walkers can decide to finish their walk at Sion Hill or return to the start point.
COVID-19 regulations limit the number of members on each walk to five, so early booking is essential. If you wish to book a place on one of the walks on a first-come, first-served basis, email events@bristolcivicsociety.org.uk with your first, second and third choice dates. We will then confirm availability to you. The walks are limited to Civic Society members and are free.