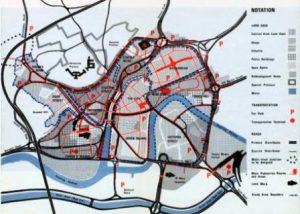 A talk by Jeff Bishop at 7.30pm. Friends Meeting House, Hampton Road
Jeff's 'Bristol Through Maps' book is probably unique. It does not just talk about old maps of our city; there are some about today and even tomorrow. Jeff's talk will pick out just a few of the maps in the book, focusing on the great range of maps.
Bristol Through Maps includes 24 maps, in full colour, starting with the earliest known (or surviving) town map in the UK – from 1480 – which happens to be of Bristol. The book then brings things up to date with maps from 1480 to today and even looks at a form of map of Bristol's future. The book discusses the different types and purposes of maps, provides information about many of the mapmakers and also includes information (some offering rather contrary views) about Bristol at the time of each map. And the maps are not just formal ones; the book includes mental maps drawn by local people, artists' maps, planners' maps, the 'Pubstops' map of Bristol, visitors' maps and developers' maps (or brochures). There are many different ways of seeing a city, as this book demonstrates in fascinating ways.