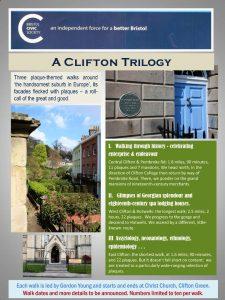 Gordon Young's first set of Clifton walks was quickly sold out, so he has organised a further set over the next three months. Gordon leads a guided tour of Clifton blue plaque sites and the people behind them, bringing the subject to life in a series of three distinct walks.
Walking through history – celebrating enterprise & endeavour
Central Clifton & Pembroke Rd: 1.8 miles, 90 minutes, 11 plaques and 7 mansions. We head north, in the direction of Clifton College then return by way of Pembroke Road. There, we ponder on the grand mansions of nineteenth-century merchants.
Glimpses of Georgian splendour and eighteenth-century spa lodging houses.
West Clifton & Hotwells: the longest walk: 2.5 miles, 2 hours, 22 plaques. We progress to the gorge and descend to Hotwells. We ascend by a different, little-known route.
Assyriology, neonatology, ethnology, epidemiology . . .
East Clifton: the shortest walk, at 1.6 miles, 90 minutes, and 22 plaques. But it doesn't fall short on content: we are treated to a particularly wide-ranging selection of plaques.
The cost is £3 per person per walk payable via PayPal, booked on your preferred dates, a Tuesday or a Thursday. Use the following links to book a place. Numbers are limited to 10 persons per walk, first come first served. Meeting point Christ Church, Clifton Green at 10.30am.
---
Tuesday 29th June – Central Clifton
---
Tuesday 13th July- West Clifton and Hotwells – SOLD OUT
---
Thursday 22nd July – Central Clifton
---
Tuesday 27th July- Central Clifton
---
Wednesday 4th August- West Clifton and Hotwells – SOLD OUT
---
Thursday 12th August- East Clifton