East Street, Bedminster
The Society regrets that it cannot support what appears to be a welcome redevelopment of a run-down shopping centre that would renovate the shops and build new leisure facilities, a cinema and commercial space. The quantity of the proposed development between East Street and Bedminster railway station concerns the Society. There are five development sites on land around Dalby Avenue. This planning application would build 270 new homes in five blocks between 4 and 22-floors tall on a site that currently has planning permission for a 17-floor building. A second planning application for a site at Pring Street/Hill Street site would deliver 217 flats and a third planning application for a site at Little Paradise would deliver 340 flats. Existing permissions nearby and under construction would deliver 54 flats in the St. Catherine's House conversion and 271 flats in the Regent House and Consort House conversions in the old Imperial Tobacco buildings in East Street. These developments would produce 1,352 flatted units.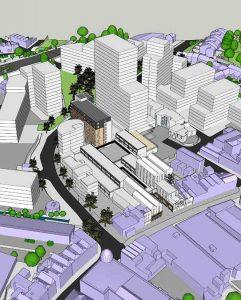 The developer's images shows how these three development sites could look. The Society fears that this high-rise development would create a mono-culture of small flats. This development intensity always questions the quality of life offered to the occupants. The sites offer a significant potential for intensification, but the Society cannot support schemes where developers offer little information about how these major schemes integrate with each other and with East Bedminster. This is a massive piece of urbanisation of the land around Dalby Avenue. It is a once-in-a-generation opportunity to deliver an imaginative new district quarter that would transform East Bedminster. This opportunity will be lost if each development site is treated as a stand-alone development. The public interest requires an overall framework to enable an overview of the integration of the development within the city. There should be a public/private partnership as there is with the Kings Cross redevelopment in London.
John Frenkel
Bristol Civic Society full response [PDF, 135KB]